Afghan Garlic Chive Ravioli With Soy Yogurt Sauce
(adapted from Silk Road Cooking: A Vegetarian Journey—click here to purchase)
For the Filling:
1 lb. firm tofu (drained, pressed between a few layers of paper towels, and crumbled)
4 cups chopped scallions, garlic chives (gandana), or leeks
2 Tbsp. vegetable oil
2 tsp. salt
1 tsp. ground coriander
1 tsp. freshly ground pepper
1 tsp. chili paste
For the Soy Yogurt Sauce (Chaka):
2 cups plain soy yogurt (drained)
1 clove garlic, crushed, peeled, and chopped
1 Tbsp. dry mint or 1 cup fresh mint
1 tsp. salt
1/2 tsp. freshly ground pepper
For the Wrappers:
1 package ready-made wonton wrappers removed from the package and covered with a dish towel to prevent drying
1 tsp. salt
2 Tbsp. olive oil
In a bowl, mix all the ingredients for the filling with a rubber spatula until you have a grainy paste. Set aside.
To make the yogurt sauce, combine all the ingredients for the sauce in a mixing bowl and set aside.
To make the ashak, place 2 heaping teaspoonfuls of the filling in the center of a wrapper and moisten the edge with a little water. Fold the wrapper over to from a triangle and pinch and crimp to seal. Place the finished ashaks, separated from each other, on a baking sheet lined with parchment paper. Cover the ashaks with a dish towel as you work so that they do not dry out.
To cook the ashak, bring 8 cups of water to a boil in a medium-sized pot. Add 1 teaspoon salt and 1 tablespoon olive oil. Add 10 ashaks at a time, and stir gently to prevent the ashaks from sticking together. Reduce heat to low and allow them to simmer for about 10 minutes until they float to the surface. Gently remove the ashaks using a slotted spoon, set aside, and continue this procedure until you have cooked all the ashaks. Drizzle 1 tablespoon olive oil over the ashaks.
Just before serving, place half the soy yogurt sauce in a serving dish, place the ashaks over it, and cover them with the remaining sauce.
Preparation time: 15 minutes
Cooking time: 30 minutes
Makes 6 servings

---
Mint-Braised Seitan "Lamb" with Tofu Yogurt Sauce
5 lbs. seitan* (keep pieces as large as possible)
4 bunches fresh mint, chopped
8 garlic cloves, minced
1 tsp. black pepper
1 1/2 tsp. salt
2 tsp. paprika
1 tsp. cumin
1 tsp. coriander
3 Tbsp. olive oil
8 medium onions, thinly sliced
Lettuce leaves, for garnishing the plate
Lemon wedges, for garnish
Combine the chopped mint, garlic, black pepper, salt, paprika, cumin, and coriander. Mix into a paste. Smear or rub the seitan with this mixture and let sit in the refrigerator for 30 minutes. Heat a roasting pan on the stove. Add 1 1/2 tbsp. olive oil and the seitan. Add 1/4 cup of water, cover, and cook on the stove over medium heat for 10 minutes. Check to ensure that pieces don't stick to the pan. Heat another pan for the onions at medium heat. Put 1 1/2 tbsp. olive oil in the pan, add the onions, and heat until soft and translucent. Arrange the lettuce on a platter and cover with the onions. Cover with seitan. Place lemon wedges around seitan and serve with Tofu Yogurt Sauce (see below).
*Seitan is a mock meat made from wheat gluten. It can be found in health food stores.
Tofu Yogurt Sauce
2 packages silken tofu
1 cup regular soymilk
1 tsp. paprika
1/4 cup lemon juice
1/2 tsp. black pepper
1/2 tsp. salt
1/4 cup water
1/4 tsp. cardamom, ground
1/2 cup parsley
3 cucumbers, peeled and shredded
Blend everything but the cucumbers and parsley until it makes a smooth sauce. Add the cucumbers and parsley.
Serve with the Mint-Braised Seitan "Lamb."
---
Curried "Chicken"
2 lbs. tofu, cubed
2 tsp. olive oil
2 cloves of garlic, minced
2/3 cup onion, chopped
1/2 cup green pepper, chopped
1 1/2 tsp. curry powder
1 1/2 cups tomatoes, chopped
1/3 cup chutney
Sauté the tofu in the oil for 5 minutes, stirring constantly, until brown on all sides. Add the garlic, onions, and green pepper, and cook 3 more minutes. Add the curry powder, tomatoes, and chutney, and stir well. Cover and simmer 15 minutes. Serve over rice.
---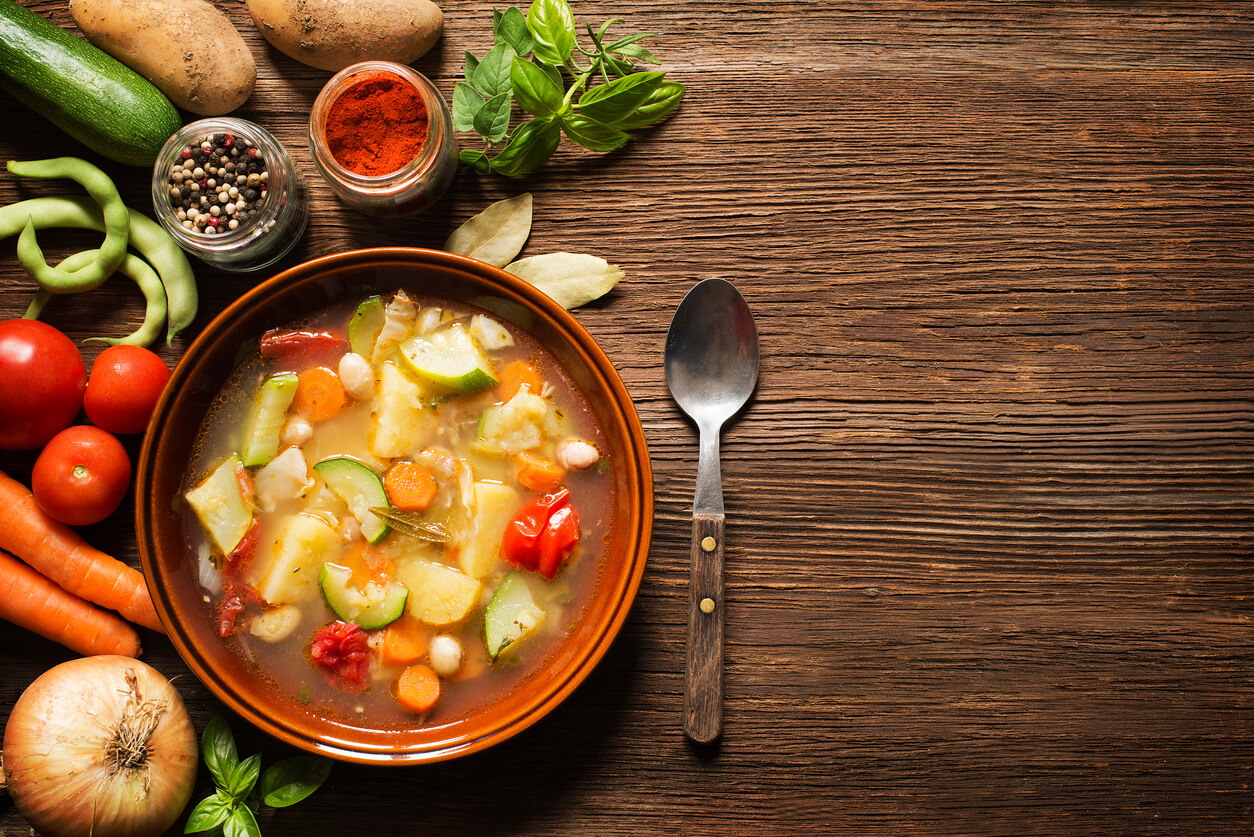 © iStock.com/dulezidar
Algerian Vegetarian Stew
1/4 cup olive oil
2 medium zucchini, unpeeled, cut into 3/4 inch cubes
1 large eggplant, peeled and cut into 3/4 inch cubes
2 large green peppers, chopped into small pieces
1 medium carrot, peeled and chopped into small pieces
3 medium onions, chopped
1 garlic clove, peeled and crushed
Salt and pepper, to taste
1 can (19 oz. or 540 ml) tomatoes
1 Tbsp. dried basil
In a saucepan, heat the oil over low heat and add all the ingredients except the tomatoes and basil. Cover and cook for 45 minutes. Stir in the tomatoes and cook for another 15 minutes. Stir in the basil, place in a serving dish, and serve with cooked rice or mashed potatoes.
---
© iStock.com/4kodiak
Spiced Potatoes and Cauliflower
1 Tbsp. vegetable oil
1 medium onion, finely chopped
1-2 tsp. minced garlic
1 tsp. ginger, powdered or finely grated
Pepper, to taste
1/2 tsp. cumin powder or seeds
1/2 tsp. cardamom powder or seeds
1.2 tsp. ground cloves
1-2 large cooked potatoes, peeled and diced
1 small head cooked cauliflower, separated into florets
2-3 Tbsp. reserved cooking water from potatoes and cauliflower Salt, to taste
Heat oil in a large skillet or pot over medium heat. Sauté onion until tender. Stir in garlic and spices and continue to sauté for a minute. Add vegetables and reserved cooking water. Cover, reduce heat to low, and cook for about 5 minutes until vegetables are very tender. Mash lightly with a fork, and add salt to taste. Serve with rice or flatbreads.
---